Customer Service Excellence
Drumchapel Housing Co-operative offices
NOTICEBOARD
12
Nov
Registration for Christmas Events
DEADLINE FOR PENSIONERS CHRISTMAS DINNER - Wed 14/11 DEADLINE FOR CHILDRENS CHRISTMAS PARTY - Mon 19/11 (Further details available when subject title is clicked on)
08
Nov
Tenants Panel Meeting - Complaints Handling Policy
We are seeking tenants to voice their opinion on our Complaints Handling Policy. If you would like to contribute to this record, we would love to hear from you. The meeting will be held at our registered office 4 Kinclaven Avenue at 2.30pm on Tuesday 20th November 2018. Please phone us on 0141 944 4902 to advise us that you wish to attend.
05
Nov
Drumchapel & West Winterfest Programme 2018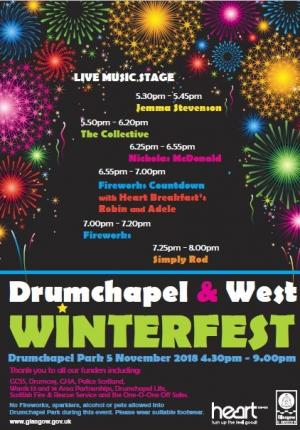 We would like to wish all our tenants a happy and safe Bonfire night. Our October newsletter provides firework safety advice for persons hosting a home display. Attached is the programme for the official Drumchapel & West Winterfest event at Drumchapel Park tonight, between 4.30pm and 9.00pm.
PERFORMANCE